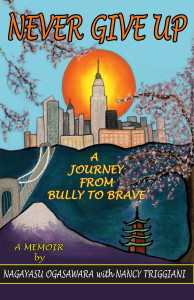 Books autographed by Sensei Nagayasu Ogasawara are now available. Supplies are limited. Order today!
Book Details
$19.99
283 pages plus special glossy photo section
ISBN 978-0-9962018-2-7
Prices include shipping and handling
Order 1 copy $19.99 + 4.99 s&h $24.98
Please scroll down to order larger quantities –  email for pricing order greater than 5 books.

The memoir of renowned judo sensei, Nagayasu Ogasawara, as told to Nancy Triggiani. From his notes, drawings, and verbal stories, Sensei Ogasawara imparted his life story to Nancy Triggiani, who then crafted Never Give Up: A Journey from Bully to Brave, recounting his fascinating life. Reading almost like a novel, Never Give Up brings every moment of Sensei Ogasawara's life back to life, fully engrossing the reader along the way.
"Racing through the crowded streets of Osaka, Japan, with his tiny feet pounding the earth as fast as his heart was beating, four-year-old Nagayasu glanced back one last time at the two-story house and general store his family was leaving behind. Tired and sweating, the Ogasawara family boarded a train, bound for a rural mountainous region where the feared B-29 enemy aircraft never flew. With his young life now torn apart by the ravages of World War II, Nagayasu turned into a bully, the terror of the mountainside, until discovering his salvation in the disciplined sport of judo. This fascinating memoir takes you on the remarkable journey of a young tyrant in Japan, to an American immigrant who becomes an inspirational role model, teacher, and coach of thousands of children and adults, including Olympians and a National Hero."
Price: $19.99 plus $4.99 shipping and handling. If ordering more than 1 book, please add $1.00 for each additional book to the shipping fee. NJ tax will be added to NJ based shipping addresses. For orders greater than one, please leave the PayPal cart quantity at 1.
Order 2 copies
(paypal quantity will be 1 order of 2 books)
Order 3 copies  (paypal quantity will be 1 order of 3 books)
Order 4 copies  (paypal quantity will be 1 order of 4 books)

Order 5 copies  (paypal quantity will be 1 order of 5 books)